Consign for Free with Bish's
Please fill out the form below about your RV, including condition information, and we'll call to discuss the details and to schedule a drop off appointment.
Park and Sell Your RV With Us!
Do you need to sell your RV now?! Get your RV in front of thousands of potential buyers by letting us RV sell it during the Bish's RV Used & Factory Clearance Sale at The Shops at South Town in Sandy, UT.
Contact us today for details and to schedule your drop-off appointment. Drop-off days are happening September 6 through 13, 2022, in the parking lot of The Shops at South Town from 10 a.m. to 6 p.m. Fill out the Reserve Your Spot form today to start the process.
And, if your RV doesn't sell during the sale, Bish's RV could offer to buy it or could continue to consign it at our dealerships. Gently used RVs are in high demand and we want them!
---
Take advantage of our advertising and get your RV sold, fast! Here's how it works:
Bish's RV will be the dealership consigning your RV for you. You still own your RV and we agree upon the amount you'll receive when it sells. We act as your agent, finding the buyer, and completing the transaction for you.
For you, we'll do the titling paperwork and pay off any loans. For the buyers, we can take a trade-in, find financing, offer great extended service plans, and complete all the paperwork between the two parties. Simply put, we take the hassle out of selling your RV!
---
Before You Bring Your RV, Don't Forget To Do The Following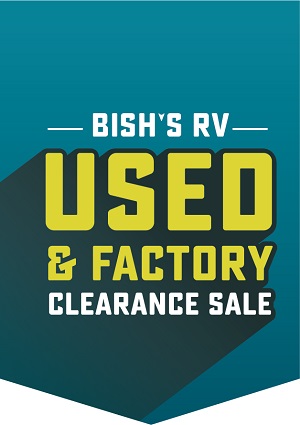 Join us September 8 to 17, 2022, at The Shops at South Town for the Bish's RV Used & Factory Clearance Sale.

The parking lot will be LOADED with the best deals on RVs. Shop from our huge selection of Used RVs in partnership with KSL.com. Or take advantage of factory clearance savings on all new RVs. We'll have an RV for any budget with sales prices starting as low as $10,995.